About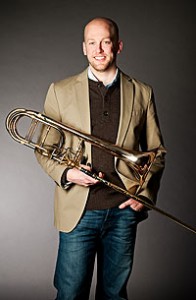 David Krosschell is an accomplished bass trombonist, tenor trombonist, and music educator based in the Seattle area.  Well versed in classical, jazz, and commercial styles, he has performed with the Seattle Symphony, Tacoma Symphony, Yakima Symphony, Seattle Wind Symphony, North Carolina Symphony, the North Carolina Opera Company, Fayetteville Symphony, Opera Carolina, Fort Worth Symphony & Opera, Illinois Symphony, Peoria Symphony, Dallas Jazz Orchestra, and Grand Rapids Symphony.
David is currently on faculty at Seattle Pacific University  and the School of Music at the University of Puget Sound where he teaches the trombone studio, brass techniques, music theory, and ear training courses. 
Prior to relocating to Seattle, David has been on the faculty at various universities, including University of North Carolina at Pembroke, Harper College, and North Central College, where he taught lessons in trombone, euphonium, and tuba, as well as a number of academic classes. Dr. Krosschell has taught a wide variety of students, from graduate students to beginners, and currently maintains a large number of trombone, euphonium, and tuba students in his personal studio.  In addition, David has offered his expertise to a number of schools from trombone & low brass sectionals to pre-festival full band clinics.  Dr. Krosschell has been a frequent clinician with the NCMEA, as well as a presenter and performer at the annual NCMEA Conference.
David holds a Doctoral degree in music performance from Northwestern University, where he studied with Charles Vernon, Michael Mulcahy, Randy Hawes, and Ed Kleinhammer.  His doctoral dissertation focused on the influential playing and recording by George Roberts.  David earned a Masters degree in trombone performance from the University of North Texas where he studied with Dennis Bubert and Dr. Vern Kagarice, as well as holding membership in the One o'clock Lab Band and North Texas Wind Symphony.  David received his Bachelor's degree from Western Michigan University in both music education and music performance while studying with Dr. Steve Wolfinbarger.